---
…With Wolfgang Weber. Check out Conner Connerson's newest Vlog.
---
Episode 6 is now LIVE on my YouTube channel.
It's back – Despite the lack of popular demand! This episode, 'THE MUSTACHE STORE" has the usual amount of bad jokes, silly songs, puppets and animation.
---
---
---
June 14, 2014
The Beverly Hills location of Kate Mantilini's closed it's doors for good. I drove down for one last crack at their corned beef hash (they were out) so had a bit of chicken, steak and their famous mac and cheese. I brought a little 35mm camera to see what I could grab. It was low light but I gave it a go, opening it up all the way and holding it as steady as I could. I wanted to reportage the whole freakin' joint. But except for the chef (the first picture) nobody was into it.
Eventually I was thrown out.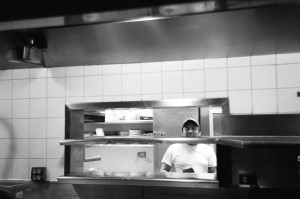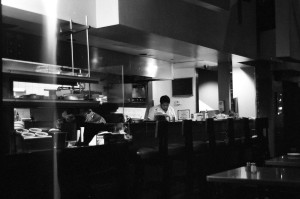 ---
---
Posted by Andyfan:
One, two, Three;
Why do all expect this for free?
Three, Two, one;
Cuz this is where the fun begun!
Four, five, six;
We'll save those for future tricks
Six, five, four,
We're three you hear, ain't no more
Happy Birthday to us!
---
Posted by AndyFan: Struck with fear like an AndyFan caught in the grill of a Grand Marquis, New Yorkers are bracing for the second natural disaster in one week trumping all time historical records. We (it's only me people, but the voices keep me company) are following the storm from down south with bated breath. Not quite sure what to make of its path, but we do have to wonder the odds of not one but two terrifying calamities in a four day period. Irene is coming off the Atlantic and Californians are mocking New Yorkers. Our only answer, ANDY! Nothing spells epic disaster like a pre-labor day weekend explosion of Andysized proportions. No, that was actually not a fat joke.
---
Posted by AndyFan: You can tell those Californian people to eff off. Seriously. All of them. Seriously, they riot when their home team wins a ball game. Who does that? I mean the object of battle is to defend your turf so you can live to fight another day. Not so that you can go home, sit on the couch and set the rug on fire. WHO DOES THAT? But I digest. The real reason that Cali can stick it is that the east coast natural disaster that they mocked the other day was not an earthquake, but the seismic pounding of my heart when I was told Andy would be traveling to the East coast this weekend. Much worse Californian people, much worse. You should know. He'll be coming back around to you at the end of next week. Seriously, brace yourselves. If you could just take up his time a little more, this impending terror would not exist. Your engagement would benefit us all.
Now would someone please let me know when he is in the air. I have to see a Chinaman about some rain making equipment. It's been a little dry in the Warshingten area as of late.
---