What a day for a post
Okay… I had every intention of writing a nice little post this morning, until I read Andyfan's first post about the owl that is following him. Don't be so sure it's plastic Andyfan… they're damn tricky. Anyway, this threw my entire day off. Damn! I need to respond to this. They're out to get me I'm sure. And now they're looking at places I will try to hide from them in the future. They're already there. So, I was shaken by this news and thought of how to deal with it. Maybe if I ignore the owl it will go away. So I left my computer on assignment to take some photographs for a job I am doing. (Yes, I do work). And as I was photogging the objects of my attention, a chill ran up my spine and VIOLA!
 This was directly behind me, on a table, staring right at my back. Eyeing me. Watching me. Warning me. Of what, I do not know.
It through me into a whirl. I got light headed. Dizzy. Anxious. I left the dwelling and headed out onto the highway where I was scattered and nervous. Feelings ran through me I cannot describe. And as I pulled off the exit I stopped at a light and looked over and saw this sign… and by sign I mean sign as in Omen. It just happens to be that the sign is, itself, two signs…
What the??? Look at this. Can you see what I'm seeing? There is only one way for me to go… the WRONG WAY!!! Now, before you think I'm reading too much into this, I need you to… well… Okay… I can't continue here because you're just not ready for what I have to say here. But God has spoken to me in signs before, VERY RARELY, but it has happened. IS this a sign from him, to me, about my life? I can't say. And it's not because I don't know, it's because, well, I already said why. You're not ready. Trust me. You're not. I'll get into it one day, Im sure. If I make it to one day. We'll see. 
Needless to say, I was fascinated by this sign of signs. It reminded me of a similar sign I got last weekend, that I haven't shared as I do not yet have the photo in my possession. When I get it, I will share it. But it changed me. Really changed me. There is something happening in the secret and hidden worlds around me that I cannot explain. When I returned to my place of business I received what appears to be good news and went out with my coworkers to celebrate at Bob's Big Boy. And look…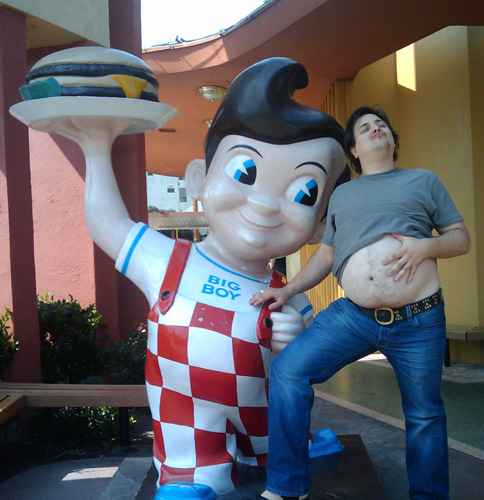 I posed for one of my belly pictures at the suggestion of a loyal reader of this blog. Good job fan! Good job! This was a turning point in the day as I bared my barrel for the world. (You're welcome.) Which reminds me.. there will be more belly photos coming soon, both classic and new.
I spend the rest of the day reeling from the events. So finally I read Andyfan's newest post, which, although I appreciate his sentiments, spent too little time talking about me. It's good to know I am all over his computer, but I do not need to know if he has a great Auntie Rosie. That's too much information going the wrong way. Yet the message is as true as can be. I too am tired of being questioned about Andy Pagano. Andy whaaa??? That's not even a real name or product. Learn to spell, google!! And come to think of it, I hate when I am asked a question and there is no place to answer. Just a bunch of bull…! I think all rhetorical questions should be abolished, don't you.?!! And yes, I do like things simple, which so far this interweb thing has not been. (I'm not sure what gmail is but I am certain that I am cool for NOT playing it.) I give Andyfan a B+ for the two-post effort but have to take points away for mention the unmentionable. – "Minority Report". It makes me shutter as much as Owls. 
Now, I have lost my train of though so I end transmission.